Guide

2

What's TerrainAxe?

Make a quick menu for TerrainAxe and your ms files

Reference

135

Select(Poly)

14

SelectBorder

RingEgs

FcsToRingEgs

Findborder

Nextegs

CoverFcs

VertsToEgs

InnerVerts

InnerEgs

FacesByID

AdjFcsByID

SameDirFaces

GetQuadFaces

RoadSides

Create(Poly)

18

StitchPoly

QuickStitch

SweepEdge

PiecePoly

PlaceMesh

StitchVerts

PCloudToMesh

AppendPoly

LoftSplines

FreePoly

ShapeEdge

DragPoly

CapEdges

CrossRoads

Auto Stairs

4

FreeStair

IrregularStair

FacesToStair

CapStairSides

Construct(Poly)

23

MoveVerts

InsertX

ProjToFace

ConformToRoad

AdvConnectVts

ZAlignFace

ZAlign3P

SlopePlanar

Round Verts

4

RoundVerts

RoundVts(3P)

RoundVts(Rad)

RoundVts(TT)

Smooth Road Tools

6

SMRoad(Splines)

SmoothRoad

SMRoad(Linear)

SMRoad(NPts)

SMRoad(Blur)

SMRoad(Curve)

Weld Tools

5

Weld1VertToEg

Weld2VertsToEg

SuperWeld

WeldVerts&Egs

XWeld

Cut(Poly)

18

ConnectVerts

Cut2Egs

Cut2Verts

PivotCenBot

CutByAgl

CutBydir

CutPerToEdge

EvenConnect

ClearJags

Slice

SliceByEdges

SliceByLines

SliceByFcs

SliceXY

SliceByGrid

SliceBy3P

Trianglate(Faces)

EncloseVerts

UV(Poly)

8

IDByElm

IDByFace

PaveCourts

RingMap

Advanced UV Tools

4

RoadPaver

PaveNoTear

PaveWall

Advanced UV Tools

Others(Poly)

14

SnapToP

MoveOnDir

SnapZ

ZMove

AdvClearMidVts

ClearMidVerts

Flatten Edges

RightAgl

ClearChaosEgs

IDSet

Check_NarrowFcs

Extend

ClearDarkVerts

ExtendVerts

Render

6

AbsorbMat

ArrangeMats

SimpleTerrMat

MtlNeaten

UvwCamera

Vrcam

Scenes

5

TrafficLineSys

AdvArray

Collapse

RoadNetwork

UCS

Common

21

DropToTerrZN

DropToTerrain

CCWShp

FreeSpline

FlatShps

RefRotate

MoveObjs

Explode

SubdivSpls

DwgImport

BlackWire

DelEmptyObj

Copy

Paste

PickPivot

ClearSel

ConnectKnots

LockTransform

ResetFile

ResetXform

BBoxToTerrain

Manager

8

AxeSetting

Clean Layers

Simple Display

QuickMenu

LifuBar

UIMan

On/Off TheAxe

SegsVsArc
PlaceMesh
Introduce
Embed one or more polygon surfaces(such as road or a flat area,must be single side object) into another surface.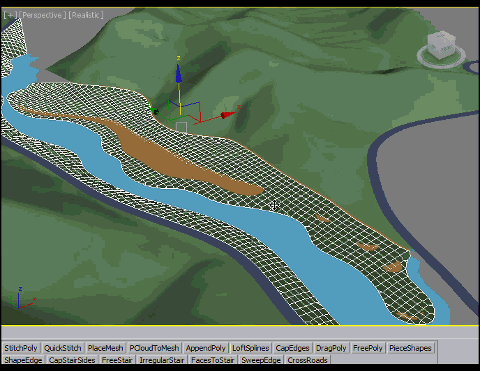 How To
Keep terrain being selected

Execute the command and pick a polygon surface
Parameters
To pop up the panel below ,right click on "PlaceMesh" in TerrainAxe Panel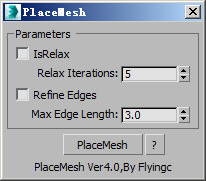 IsRelax: Apply relax function of Editable polygon to new created faces and make them smoother

Refine Edges:Insert vertices on edges longer than the value of "max Edge Length" to avoid getting long and narrow faces.
Note That
Dont include unnecessary structures ,such as buildings,stairs or complex pavement.
=>Previous Version of Help