Guide

2

What's TerrainAxe?

Make a quick menu for TerrainAxe and your ms files

Reference

135

Select(Poly)

14

SelectBorder

RingEgs

FcsToRingEgs

Findborder

Nextegs

CoverFcs

VertsToEgs

InnerVerts

InnerEgs

FacesByID

AdjFcsByID

SameDirFaces

GetQuadFaces

RoadSides

Create(Poly)

18

StitchPoly

QuickStitch

SweepEdge

PiecePoly

PlaceMesh

StitchVerts

PCloudToMesh

AppendPoly

LoftSplines

FreePoly

ShapeEdge

DragPoly

CapEdges

CrossRoads

Auto Stairs

4

FreeStair

IrregularStair

FacesToStair

CapStairSides

Construct(Poly)

23

MoveVerts

InsertX

ProjToFace

ConformToRoad

AdvConnectVts

ZAlignFace

ZAlign3P

SlopePlanar

Round Verts

4

RoundVerts

RoundVts(3P)

RoundVts(Rad)

RoundVts(TT)

Smooth Road Tools

6

SMRoad(Splines)

SmoothRoad

SMRoad(Linear)

SMRoad(NPts)

SMRoad(Blur)

SMRoad(Curve)

Weld Tools

5

Weld1VertToEg

Weld2VertsToEg

SuperWeld

WeldVerts&Egs

XWeld

Cut(Poly)

18

ConnectVerts

Cut2Egs

Cut2Verts

PivotCenBot

CutByAgl

CutBydir

CutPerToEdge

EvenConnect

ClearJags

Slice

SliceByEdges

SliceByLines

SliceByFcs

SliceXY

SliceByGrid

SliceBy3P

Trianglate(Faces)

EncloseVerts

UV(Poly)

8

IDByElm

IDByFace

PaveCourts

RingMap

Advanced UV Tools

4

RoadPaver

PaveNoTear

PaveWall

Advanced UV Tools

Others(Poly)

14

SnapToP

MoveOnDir

SnapZ

ZMove

AdvClearMidVts

ClearMidVerts

Flatten Edges

RightAgl

ClearChaosEgs

IDSet

Check_NarrowFcs

Extend

ClearDarkVerts

ExtendVerts

Render

6

AbsorbMat

ArrangeMats

SimpleTerrMat

MtlNeaten

UvwCamera

Vrcam

Scenes

5

TrafficLineSys

AdvArray

Collapse

RoadNetwork

UCS

Common

21

DropToTerrZN

DropToTerrain

CCWShp

FreeSpline

FlatShps

RefRotate

MoveObjs

Explode

SubdivSpls

DwgImport

BlackWire

DelEmptyObj

Copy

Paste

PickPivot

ClearSel

ConnectKnots

LockTransform

ResetFile

ResetXform

BBoxToTerrain

Manager

8

AxeSetting

Clean Layers

Simple Display

QuickMenu

LifuBar

UIMan

On/Off TheAxe

SegsVsArc
PCloudToMesh
Introduce
Read 3D Points from a text file to create a terrain mesh
How To
Read 3D Points from a text file to create a terrain mesh.

In this text file ,each point coordinate should be stored in a single line, and each component (x,y,z)is separated by "," or a blank. The typical format such as "1,419.05,-45.945,288.424",first value is index,followed by x,y and z coordinate.


PCloudToMesh

For easily getting such a text file,TerrainAxe also provide a autolisp program,with which,you can export selected elevation points into a text file.
Parameters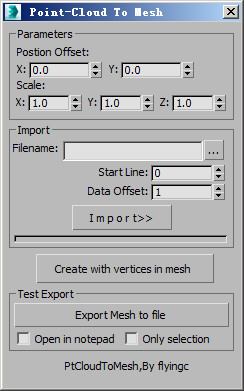 Parameters: In most cases ,these parameters can be ignored ,they just are useful only when imported points are too far away from origin or improper unit system is used ,because it can cause numeric accuracy problems.
Position offset: Move points closer to origin.

Scale:Scale coordinates of imported points,make them between a proper range,such as 100000.0 to 100.0. Too large value can cause unexpected error.
Import:
Filename:select a text file which contains points data.

Start line: The line that coordinates data begins .Sometimes the first one or more lines may be unuseful.

Data offset:The position of x coordinate in each line.Generally first value is used to store index data.
=>Previous Version of Help