Features
Poly Select
Small,easy and efficient selection tools ,quickly select vertices ,edges or polygons.

| | | |
| --- | --- | --- |
| | | |
| | | |
| | | |
SelectBorder:
Select the part of border between two selected verts,if run again,which will select another part of border.
RingEgs:
Select all edges parallel to and between two selected edges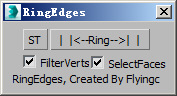 FcsToRingEgs:
Extract all edges parallel to each other from selected row or column faces and select,which can go through no-quad face.
Findborder:
Only select the edges that bordered unselected faces.
InnerVts:
Only select verts within selected faces.
ContinueEgs:
Propagates a selected edge in alignment with it.
CoveredFcs:
Select the faces covered by picked object.
SideEgsOfFcs:
Extract two side of edges chain from selected row or column faces and select.
VtsToEgs:
If selected verts end to end connected by edges,the resultant selection is these edges.
InnerEgs:
Convert Selected faces to edges and select ,exclude the edges bordered unselected faces.
SameIDFcs:
Select all faces with same material ID as selected face in current polygon object.
AdjSameIDFcs:
Expands face selection with same material ID from selected faces,until touch faces that have different MaterialID.